Giày Converse Classic thấp cổ màu Hồng
Với đôi giày converse classic này bạn hẳn sẽ không quá ngạc nhiên về sự linh hoạt và cảm thấy tuyệt với trên mỗi bước đi của chính mình.
Details
Details
Nguồn gốc : Giày được sản xuất tại Việt Nam
Size : 35 -> 43
Đối tượng : Giày phù hợp với cả Nam và Nữ
*****
Giày Converse không dành riêng cho một người dùng cụ thể nào, đó là điểm đặc biệt của Converse mà ít đôi giày nào có được. Một đôi giày vượt qua rào cản tuổi tác, không phải mỗi giai đoạn, bạn phải mang 1 loại thương hiệu giày khác nhau, giày khi bé, giày đi học, giày đi làm, giày đi chơi, … tất cả trong một, giày Converse hơn 100 năm vẫn luôn mới mẻ và phù hợp.
Cũng chính kiểu dáng mới lạ, các mẫu giày converse nam thấp cổ đã làm cho các nàng phải mê mẩn và ngay lập tức những quan niệm về cách làm đẹp cho phái nam cũng dần được thay đổi nhanh chóng đến không ngờ.
Mỗi đôi Converse kể 1 câu chuyện riêng, khi được mang bởi 1 người đàn ông lại càng có những điểm đặc biệt riêng, đậm phong thái của người sở hữu. Converse đi với vest, đi với jeans, đi với áo phông, đi với kaki hay thậm chí là quần short đề vẽ ra những phong cách lôi cuốn từ những người đàn ông. Thanh niên đường phố đến chất nghệ sĩ, hiện đại, sang trọng, lịch lãm đến bụi bặm, lãng tử đến thư sinh, từ cầu thủ bóng rổ đến ban nhạc rock, từ người bình dân đến người nổi tiếng, …
Tại kiza shop bạn có thể lựa chọn được nhiều đôi giày converse theo cá tính của riêng mình, ngoài ra shop còn phục vụ các bạn các loại giày vans, giày new balance đẹp ...
Đôi giày converse classic cổ thấp màu đỏ mận là sự lựa chọn hoàn hảo cho các tín đồ giày converse.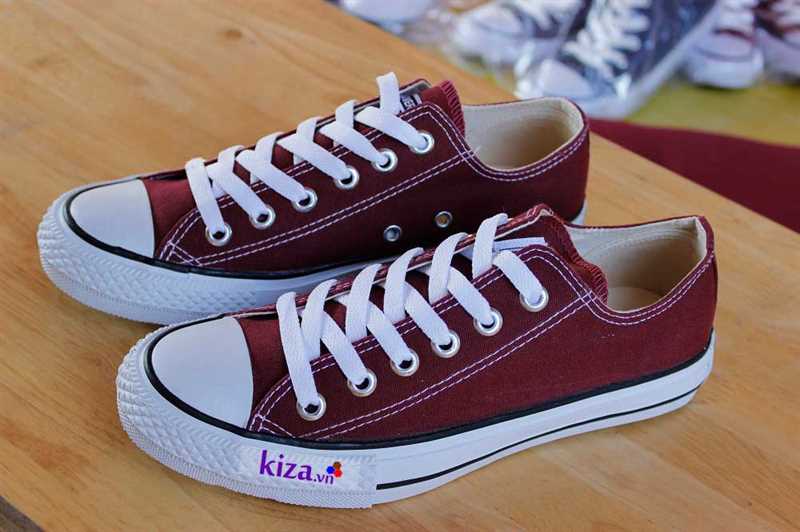 Reviews
Custom Tab 1
Custom CMS block displayed as a tab. You can use it to display info about returns and refunds, latest promotions etc. You can put your own content here: text, HTML, images - whatever you like. There are many similar blocks accross the store. All CMS blocks are editable from the admin panel.
Magento Community Edition is the most powerful open source e-commerce software and can be downloaded 100% for free. Developers can modify the core code, add custom features and functionality by installing extensions from Magento Connect marketplace.
Manage the fully dynamic catalog with the intutive admistrative interface. The flexible catalog system includes various options for the display of items. Magento is also integrated with a variety of major payment gateways out of the box.
Magento is a fully global platform, allowing for the expansion of business or simply offering multiple versions of your site to meet the needs of your customers. Translated into over 60 languages, supporting multiple currencies, payment methods and taxes, Magento allows for internationalization of your online stores.
Custom CMS block displayed when you want to replace up-sell products with custom content. You can display here some text, images or any other content.